Posts for: November, 2013
By Karls Family Dentistry
November 25, 2013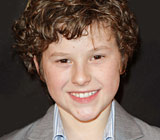 Nolan Gould of the hit TV show Modern Family has an uncommon gift for comedy, but he also has a very common orthodontic problem: too many teeth for the size of his mouth, which often results in "crowding."
"My teeth used to be pretty messed up," Nolan recently told Dear Doctor magazine in an exclusive interview. "I had two extra teeth when I was born. They hadn't come out (erupted) yet. And all the other teeth that were already there were starting to point backwards because it was getting so crowded in my mouth. They had to remove those two (extra) teeth," he said.
Although being born with extra teeth is somewhat unusual, needing to have teeth extracted for orthodontic reasons is not. In fact, orthodontic treatment often involves removing teeth to relieve crowding. It makes sense when you think about it: When there are too many teeth for the size of the dental arches (upper and/or lower jaws) or the teeth are larger in size than the dental arch can accommodate, there may not be enough space to align them properly. The necessary space can be created by removing teeth.
The teeth most frequently extracted for orthodontic reasons are the first bicuspid teeth. These are the ones right between the cuspid, or eyeteeth (under the eyes) and the molars (biggest back teeth). Once there is enough space, the orthodontist can choose from a variety of orthodontic appliances to align the teeth, depending on the specific needs of the individual.
In Nolan's case, it was the extra two teeth he was born with that were removed. Afterwards, the young actor's orthodontist was able to shift Nolan's remaining teeth into proper alignment using orthodontic appliances called Crozats. Made of metal wires, Crozats go around the back teeth and behind the front teeth, making them virtually invisible.
"You can remove them, which is really good for acting, especially because you can't see them," Nolan explained. "I can wear them 24/7 and nobody will ever notice."
Nolan's orthodontic appliances may not be noticeable, but his fabulous smile certainly is!
If you would like to learn more about improving tooth alignment with orthodontics, please contact us today to schedule an appointment for a consultation. If you would like to read Dear Doctor's entire interview with Nolan Gould, please see "Nolan Gould." Dear Doctor also has more on "Tooth Removal for Orthodontic Reasons."
By Karls Family Dentistry
November 15, 2013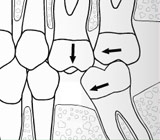 For most people, replacing missing front teeth takes a higher priority over missing back teeth. The reason is obvious: others can see those missing in front, but not necessarily those in the back.
From a functional view, however, you should still consider replacing missing back teeth. Not only will it improve your chewing ability, it may also prevent a chain reaction of negative effects to your remaining teeth.
Teeth are held in place in the jawbone by a membrane called the periodontal ligament. The ligament is a living tissue that allows teeth to move to keep contact with adjacent and opposing teeth as natural wear occurs. When a space is created by a missing tooth, this natural movement accelerates and the teeth may shift beyond normal ranges.
As a result you can encounter excessive mobility of teeth from bite irregularities, uneven tooth wear, bone loss, potential painful problems with the temporo-mandibular joints (connecting the lower jaw to the skull), and a loss in facial height.
There are three basic options for this kind of tooth replacement. The best option is dental implants: these free-standing replacements don't normally affect surrounding teeth, they're easier to clean, and they help support the bite. On the downside, there must be enough remaining bone to support the implant.
The next best option is a fixed bridge. This option only works, however, if there are teeth on either side of the missing tooth space capable of supporting the bridge, and they must be reduced in size by removing the enamel with the dental drill. They also have a tendency to retain plaque, the main cause of gum disease.
That leaves the last, and least favorable, option, a removable partial denture. They may also trap food and be difficult to wear. They can move in the mouth, stressing — and possibly loosening — the remaining teeth that hold them in place. With all its drawbacks, though, if a partial denture is the only solution to missing back teeth, it's a better alternative than doing nothing and risking long-term problems.
If you would like more information on replacement options for back teeth, please contact us or schedule an appointment for a consultation. You can also learn more about this topic by reading the Dear Doctor magazine article "Replacing Back Teeth."