Posts for: December, 2013
By Karls Family Dentistry
December 24, 2013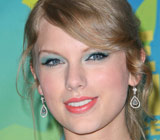 "Break a leg" is a well-known theatrical expression for wishing good luck to an actor about to go on stage. Singers should have one of their own…"Chip a tooth"! Apparently collisions between microphones and pearly whites are an occupational hazard for crooners. Taylor Swift became one of the latest casualties during a concert in Pittsburgh while belting out her hit "I Knew You Were Trouble." The consummate professional, she didn't miss a beat and kept on singing despite seeing a tooth chip hit the floor.
After all, while chipping a tooth is an inconvenience, it's not a permanent smile wrecker. Modern dentistry offers several options for restoring a damaged tooth to its original symmetry and luster, or even better!
Bonding
Dental cosmetic bonding is the quickest and lowest-cost option to repair a chip. This involves application of a composite filling material that is colored and shaped to match the original tooth. Bonding material can be used to replace the lost portion of tooth or to seamlessly reattach the lost portion if it has been preserved and is otherwise undamaged. Little to no removal of existing tooth surface is needed.
Veneers
A veneer can be used for slightly larger areas or discolored teeth. This is a thin, custom-made shell placed on the front of the tooth to give it a new "face." Some removal of existing tooth surface may be necessary to fit a veneer so it is flush with the surfaces of surrounding intact teeth.
Crowns
When a relatively large portion of the tooth is missing, a crown is often the better choice. It fully encases the visible portion of the remaining tooth above the gum line and is shaped and sized to match the original. It can be made of tooth-colored porcelain fused to metal crowns or all-ceramic (optimal for highly visible areas). A small amount of the existing tooth surface will be removed to allow the crown to fit over it.
If you would like more information about repairing a chipped tooth, please contact us or schedule an appointment for a consultation. You can also learn more about this topic by reading the Dear Doctor magazine article "Artistic Repair of Front Teeth With Composite Resin."
By Karls Family Dentistry
December 10, 2013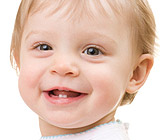 Even before your infant's first tooth emerges, you can take steps to reduce the risk for cavities!
Cavities occur when decay-causing bacteria living in the mouth digest carbohydrates (sugars) introduced into the mouth via food and beverages. This produces acid, which can eat through the protective enamel surface of teeth and attack the more vulnerable dentin below. Infants aren't born with decay-promoting bacteria; however, they can acquire them from their caregiver(s) through close contact, for example:
Kissing on the mouth
Sharing food
Sharing eating utensils (e.g., a spoon or glass)
Cleaning off a pacifier by mouth
Tooth decay is the most common chronic childhood disease! It can start as soon as the first tooth erupts — which generally happens around age 6 to 9 months but can be as early as 3 months or as late as 1 year. Besides being potentially painful, severe tooth decay may cause your child to lose the affected primary (baby) tooth before it's due to fall out on its own. That, in turn, can raise the risk of orthodontic problems because primary teeth maintain space for permanent teeth, which also use them as their guide for coming in properly.
It's important to clean your child's teeth regularly once they appear and to refrain from certain feeding activities that have been linked with early tooth decay. For example, use of a sleep-time bottle containing a liquid with natural or added sugars, such as formula or juice, can result in a pattern of severe decay once referred to as "baby bottle tooth decay." These days, the term early childhood caries (ECC) is more commonly used to also encompass decay linked to continuous sippy-cup use, at-will breast-feeding throughout the night, use of a sweetened pacifier, or routine use of sugar-based oral medicines to treat chronic illness.
We recommend that you schedule a dental visit for your baby upon eruption of his or her first tooth or by age 1. This first visit can include risk assessment for decay, hands-on instruction on teeth cleaning, nutritional/feeding guidance, fluoride recommendations, and even identification of underlying conditions that should be monitored. Your child's smile is a sight to behold; starting early improves the odds of keeping it that way!
If you would like more information about infant dental care, please contact us or schedule an appointment for a consultation. You can also learn more about this topic by reading the Dear Doctor magazine article "Age One Dental Visit."