Posts for: October, 2017
By Karls Family Dentistry
October 28, 2017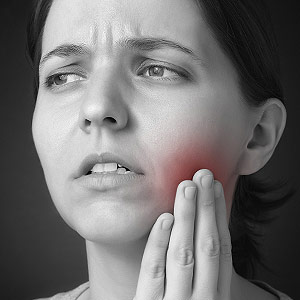 Determining which of your teeth is causing your toothache isn't always easy — or even if it's a tooth at all. The pain could be coming from a tooth, the gums, or both. Only a thorough dental examination can pinpoint the exact cause and best course of treatment.
If a decayed tooth is the problem, the pain may be coming from nerves and other tissue deep within the tooth's pulp. The symptoms could be dull or sharp, constant or intermittent, specific to one area or spread out. It's even possible for the pain to suddenly subside after a few days. This doesn't mean the infection has subsided, but rather that the infected nerves have died and no longer transmit pain. Pain can also radiate from the actual source and be felt somewhere else — the pain in your sinuses, for example, could actually originate from an infected back tooth.
If the source is periodontal (gum) disease, the infection has begun in the gum tissues. As they become more inflamed they lose their connectivity with the teeth, bone loss occurs and the gums may "recess" or draw back. This exposes the tooth root, which without the protective cover of the gum tissues becomes highly sensitive to changes in temperature or pressure. As a result you may encounter sharp pain when you eat or drink something hot or cold, or bite down.
Treating these issues will depend on the actual infection source. An infected tooth often requires a root canal treatment to clean out the pulp and root canals of dead or infected tissue, fill them with a special filling, and seal and crown the tooth to prevent future infection. If the source is gum disease, we must manually remove the bacterial plaque causing the disease from all tooth and gum surfaces to stop the infection and allow the gums to heal. In advanced cases, surgical procedures may be necessary to repair damage and encourage new gum and bone growth.
Where dental disease has spread from tooth to gums or vice-versa, you may need treatments for both areas to address your overall condition. Whatever the treatment course, we can put an end to your tooth pain and restore health to your teeth and gums.
If you would like more information on the sources of mouth pain, please contact us today to schedule an appointment for a consultation. You can also learn more about this topic by reading the Dear Doctor magazine article "Confusing Tooth Pain."
By Karls Family Dentistry
October 13, 2017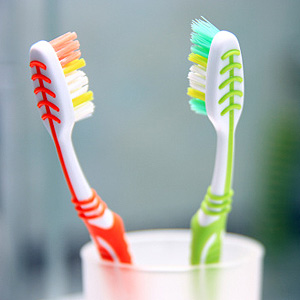 October brings fall leaves, pumpkins — and National Dental Hygiene Month. As you change your summer clothes for a fall wardrobe, it may also be time to change your toothbrush for a new one. The American Dental Association (ADA) recommends replacing your toothbrush every three to four months. If that sounds like a lot, just think: This small but very important tool gets a lot of use!
If you brush your teeth twice a day for two minutes each time as recommended by the ADA, that's two hours of brushing action in one month. Three to four months of twice-daily brushing makes for six to eight hours of brushing time, or a couple hundred uses. This is all an average toothbrush can take before it stops doing its job effectively.
Toothbrush bristles are manufactured to have the right amount of give, tapering, and end-rounding for optimal cleaning. When new, a toothbrush can work its way around corners and between teeth to remove dental plaque. Old bristles, however, lose the flexibility needed to reach into nooks and crannies for a thorough cleaning. Worn bristles may curl, fray or break — and can scratch your gums or tooth enamel. A toothbrush with stiff, curled bristles does not leave your mouth feeling as clean. This may lead to brushing too often or too hard, which is bad for your gums.
A good rule of thumb is to replace your toothbrush every season — unless you see signs that you need a new one sooner. For example, if you wear braces, you may have to replace your toothbrush more frequently since brushing around braces puts more wear and tear on the brush.
For healthy teeth and gums, make sure your primary oral hygiene tool is in tip-top shape. Taking care of the little things now can avoid inconvenient and expensive dental problems later. Don't forget to schedule regular professional dental cleanings, and be sure to ask if you have any questions about your dental hygiene routine at home. To learn more about the importance of good oral hygiene, read "Daily Oral Hygiene: Easy Habits for Maintaining Oral Health" and "Dental Hygiene Visit: A True Value in Dental Healthcare" in Dear Doctor magazine.