Posts for tag: dental emergency
By Karls Family Dentistry
November 08, 2016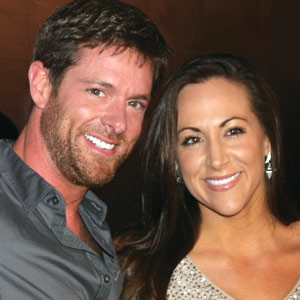 For anyone else, having a tooth accidentally knocked out while practicing a dance routine would be a very big deal. But not for Dancing With The Stars contestant Noah Galloway. Galloway, an Iraq War veteran and a double amputee, took a kick to the face from his partner during a recent practice session, which knocked out a front tooth. As his horrified partner looked on, Galloway picked the missing tooth up from the floor, rinsed out his mouth, and quickly assessed his injury. "No big deal," he told a cameraman capturing the scene.
Of course, not everyone would have the training — or the presence of mind — to do what Galloway did in that situation. But if you're facing a serious dental trauma, such as a knocked out tooth, minutes count. Would you know what to do under those circumstances? Here's a basic guide.
If a permanent tooth is completely knocked out of its socket, you need to act quickly. Once the injured person is stable, recover the tooth and gently clean it with water — but avoid grasping it by its roots! Next, if possible, place the tooth back in its socket in the jaw, making sure it is facing the correct way. Hold it in place with a damp cloth or gauze, and rush to the dental office, or to the emergency room if it's after hours or if there appear to be other injuries.
If it isn't possible to put the tooth back, you can place it between the cheek and gum, or in a plastic bag with the patient's saliva, or in the special tooth-preserving liquid found in some first-aid kits. Either way, the sooner medical attention is received, the better the chances that the tooth can be saved.
When a tooth is loosened or displaced but not knocked out, you should receive dental attention within six hours of the accident. In the meantime, you can rinse the mouth with water and take over-the-counter anti-inflammatory medication (such as ibuprofen) to ease pain. A cold pack temporarily applied to the outside of the face can also help relieve discomfort.
When teeth are broken or chipped, you have up to 12 hours to get dental treatment. Follow the guidelines above for pain relief, but don't forget to come in to the office even if the pain isn't severe. Of course, if you experience bleeding that can't be controlled after five minutes, dizziness, loss of consciousness or intense pain, seek emergency medical help right away.
And as for Noah Galloway:Â  In an interview a few days later, he showed off his new smile, with the temporary bridge his dentist provided… and he even continued to dance with the same partner!
If you would like more information about dental trauma, please contact us or schedule an appointment for a consultation. You can learn more in the Dear Doctor magazine articles "Trauma & Nerve Damage to Teeth" and "The Field-Side Guide to Dental Injuries."
By Karls Family Dentistry
September 23, 2014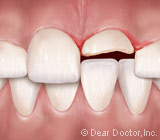 Tooth decay and other oral diseases aren't the only dangers your teeth face — accidental injuries also pose a risk. Fortunately, much can be done to save injured teeth, if you act quickly.
Dental injuries where part of the enamel crown has chipped off are the most common. Even if only one tooth appears damaged, adjacent teeth and bone might also have been damaged internally. Most chip injuries can be repaired either by reattaching the broken crown or with a tooth-colored filling or veneer. If the damage has extended into the inner tooth pulp then a root canal treatment might ultimately be necessary.
Teeth that have been knocked loose from normal alignment (dislodged) or where the entire tooth with its root has separated from the socket (avulsed) are rare but severe when they occur. It's imperative to see a dentist as soon as possible — even more than five minutes' of elapsed time can drastically reduce the tooth's survivability. Dislodged teeth are usually splinted to adjacent teeth for several weeks; we would then carefully monitor the healing process and intervene with endodontic treatment (focused on the tooth's interior) should something unfavorable occur.
With the possible exception of a primary (baby) tooth, an avulsed tooth should be placed back in the socket as soon as possible. This can be done by someone on scene, as long as the tooth is handled gently, the root not touched, and the tooth rinsed with cold, clean water if it has become dirty. If no one is available to do this, the tooth should be placed in milk to avoid drying out the root, and the patient and tooth transported to a dentist immediately. Once in the socket, the treatment is similar as for a dislodged tooth with splinting and careful watching.
The damaged tooth should be checked regularly. Your body's defense mechanism could still reject it, so there's a danger the root could be eaten away, or resorbed. Some forms of resorption can't be treated — the aim then is to preserve the natural tooth for as long as possible, and then replace it with a life-like restoration to regain form and function.
If you would like more information on the treatment of injured teeth, please contact us or schedule an appointment for a consultation. You can also learn more about this topic by reading the Dear Doctor magazine article "Trauma & Nerve Damage to Teeth."
By Karls Family Dentistry
March 18, 2014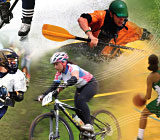 Sports are an important element in human society — besides providing enjoyment they also build discipline, teamwork and character.
But sports activities, especially for children and teenagers, also carry the risk of physical injury — and your teeth and mouth aren't immune. About 22,000 mouth injuries occur annually in individuals under the age of 18. As the degree of contact within the sport rises, so does the risk of dental injuries.
To reduce this risk, it's important to adopt a comprehensive approach to dental injuries, beginning with protection. For any sport that involves a ball, stick, puck or physical contact with another player, athletes should incorporate two pieces of equipment to fully protect against mouth injury: headgear and a mouthguard. Both help to evenly distribute the forces generated during an impact and thus reduce the chance or severity of injury.
The design of headgear will depend on other factors involving a particular sport. Mouthguards are more singular in their purpose, and so what works in one sport should work in another. While there are a number of types like stock or "boil and bite," the highest level of protection is a custom-fitted mouthguard created by a dentist to specifically fit the individual's bite. Although more costly than other options, it can better reduce the chances of an even more costly mouth injury.
Because we can only reduce the risk of injury but never eliminate it, protection is only part of the approach. Individuals, parents and sports officials should have plans in place for treating dental injuries should they occur. Depending on the level of trauma, individuals should have access to a dentist as soon as possible. It's also important to know what to do when specific injuries occur, whether they require an immediate, urgent or less urgent response. The Dear Doctor magazine article, "The Field Guide to Dental Injuries" is an excellent primer on dental injury treatment.
Sports can have a positive effect on physical, emotional and social development. Adopting a well-rounded approach to dental injury prevention and treatment will help keep the focus on those benefits.
If you would like more information on protection and treatment from sports-related dental injuries, please contact us or schedule an appointment for a consultation. You can also learn more about this topic by reading the Dear Doctor magazine article "An Introduction to Sports Injuries & Dentistry."